The Fire District has an elected board of commissioners the are responisble for legislative governance to include finance and funding and establishment of policy and type and level of service to the citizens.

Thomas McGarry, Commissioner - Position 1
Commissioner Thomas (Tom) McGarry is a practicing attorney in Spokane. Tom was elected to a six-year term on the Board of Commissioners in 2012 and re-elected in 2018. Tom and his wife Mary live in the District's Town and Country neighborhood.
Brian Mather, Commissioner - Position 2
Brian Mather was elected to become a Spokane County Fire District 9 Fire Commissioner in 2022. Brian was born and raised in north Spokane. He graduated from Mead HS and went on to earn his Doctor of Chiropractic Degree in 1996 and is the owner of Spokane Chiropractic & Sports Injury Clinic, located in the Wandermere area. He is also been the team chiropractor for the Spokane Chiefs Hockey Club since 2001. Dr. Mather served as chiropractor for the 2007 & 2010 U.S. Figure Skating National Championships held here in Spokane. He is a consultant to many of the areas semi professional and collegiate athletic teams. He is married to his wife Sheleis, and they have 3 kids that are all very involved in sports and other activities in the community. Brian has served on various boards at St. Thomas More Catholic Church and School, but has been the Finance Chair for the parish and the school for many years. He and his family are often in the stands at local sporting events cheering on their kids, family or friends that participate in every level of athletics. The Mather family loves to camp and hang out with their friends enjoying this wonderful community. Brian has always found his greatest joy in being of service to others. Whether it's his patients, his church or school communities he always enjoys making an impact in the community. He is honored to have been elected to serve the citizens of Fire District 9, and you will probably find him spending his free time at one of the fire stations or helping out in the fire district wherever he can.
James Bennett, Commissioner - Position 3
Commissioner Jim Bennett works as a paramedic for American Medical Response (AMR). Jim was elected to a six-year term on the Board of Commissioners in 2014 and re-elected in 2020. Jim and his wife Lisa live in the District's Five Mile Prairie neighborhood. Previously, Jim served on the Board of Commissioners for Stevens County Fire District 1.
The Board of Commissioners select a Fire Chief that serves as the Chief Executive of the District. The Fire Chief selects Assistant Chiefs and Division Chiefs to manage and supervise the functional areas of the District.
Jack Cates, Fire Chief
Chief Cates joined Fire 9 in September of 1988 and rose through the ranks of firefighter, lieutenant, captain and deputy chief before being named Fire Chief on March 1, 2013. Chief Cates has served as Vice-President and President of the Inland Empire Fire Chiefs Association; past chairman of the Spokane County Joint Fire Operations Group; and is a representative to the Northeast Washington Wildfire Coordinating Group Board of Governors. He has served on the Washington State Firefighter Safety Technical Review Committee and serves on several other committees for training, wildland firefighting and firefighter certification and credentialing. He presently serves as a Safety Officer on Northwest Incident Management Team 12 and as an Incident Commander for NE Region type 3 Incident Management Teams.
Jim Walkowski, Assistant Chief-EMS/Training
Jim began in the fire service with the Bainbridge Island Fire Department in 1985. His career progressed through the ranks of Firefighter, Lieutenant and Chief Fire Officer. As the Assistant Chief of Emergency Services at Fire 9, he supervises the Fire/EMS Operations, Training and Special Operation Divisions of the District. He serves on numerous teams and committees including the NE Region type 3 Incident Management Team and the HLS Regional Urban Search and Rescue Team. He is a member of the International Fire Chiefs Association and Spokane County Fire Chiefs Association. Jim is a graduate of the University of Maryland Fire and Rescue Institute and attended Western Oregon University; he also serves as President of the Washington Fire Chiefs Association. Jim is a resident of the fire district and he and his wife Sarah have three children. When off-duty, he dedicates time to family and providing fire service instruction with a team of other fire service professionals.
Greg Anderson, Assistant Chief-Operations
Doug Bleeker, Assistant Chief-Prevention/Public Education/Fire Investigation
Doug is the Assistant Chief of Technical Services for Fire District 9. He started in the fire service as a firefighter with the City of Cheney Fire Department in 1986. Doug has a Bachelor's degree from Eastern Washington University and a Masters in Public Administration from City University of Seattle. He's an IFSAC certified fire investigator and serves on the board of directors for the Washington Chapter of International Association of Fire Investigators. Doug has taught for the north Spokane County regional firefighter recruit academy since 1995. He serves on Washington Interagency Incident Management Team 4 (type-2) and the NE Region Incident Management Team (type-3). He also represents the Inland Empire Fire Chiefs Association on the Advisory Council to Spokane Regional Clean Air Authority. Doug lives in the area and enjoys outdoor activities with his family when he's not out camping on project fires.
Doug Strong, Division Chief-Support Services
Doug started in the fire service as a volunteer firefighter with Fire 9 in the summer of 1980 and served as an active volunteer at Station 92 and then Station 96 until January 2013. In January 1985 Doug was hired by the District as a mechanics helper, then became the Maintenance Technician in the late 1980s and was promoted to Support Services Division Chief in February of 2002. Doug is a past board member with the Washington State Fire Chiefs' Mechanics Division. Doug and his wife, Chandra, live in the Foothills area of the Fire District and have two girls who are grown and have moved on to the next chapter of their lives. Doug and Chandra enjoy staying involved with their church and other local volunteer opportunities.
Bob Shindelar, Division Chief-Wildfire Operations/Fuels
Bob started his career with the Wisconsin Department of Natural Resources, Bureau of Fire Control in 1988. He later worked for the Bureau of Land Management and United States Forest Service in various firefighter positions and moved up into higher level fire management positions to become the Forest Fire Chief for the Boise National Forest in Idaho. After 30 years of federal service, he made a career move to become the Division Chief for Wildfire Operations and Fuels for the District. He gained his Forestry and Fire Management education from Colorado State University and Humboldt State University. He is an Incident Commander for Northwest Incident Management Team 12; State Fire Marshal's Office Wildfire Defense Committee Representative for Northeast Washington; and Washington State Fire Chief's Representative for Washington fire service to the Pacific Northwest Coordinating Group's, Northwest Geographic Board.
Nathan Jeffries, Division Chief-Training/HR
Nathan joined Fire 9 as a volunteer in 1998 serving as a member of Station 92 in Mead. He was hired full time in 2003 and rose through the ranks serving as a Firefighter, Lieutenant and Training Captain. Nathan was promoted to Division Chief in December of 2017. He currently serves as the Chairman of the Inland Empire Fire Chief's Association Training Subcommittee and works with other area training officers to maximize the training opportunities offered to all fire departments of the Inland Northwest. Nathan serves on several regional and state training committees representing the Spokane Region. He presently serves as a Planning Section Chief for Pacific Northwest Team 3 (type 1). Nathan was born and raised in the area attending Mead High School and Eastern Washington University. He currently lives with his spouse in the Mead area. In his off duty time he enjoys travelling across the world to experience different cultures. In addition, he is an avid Gonzaga Men's Basketball fan and rarely misses a game.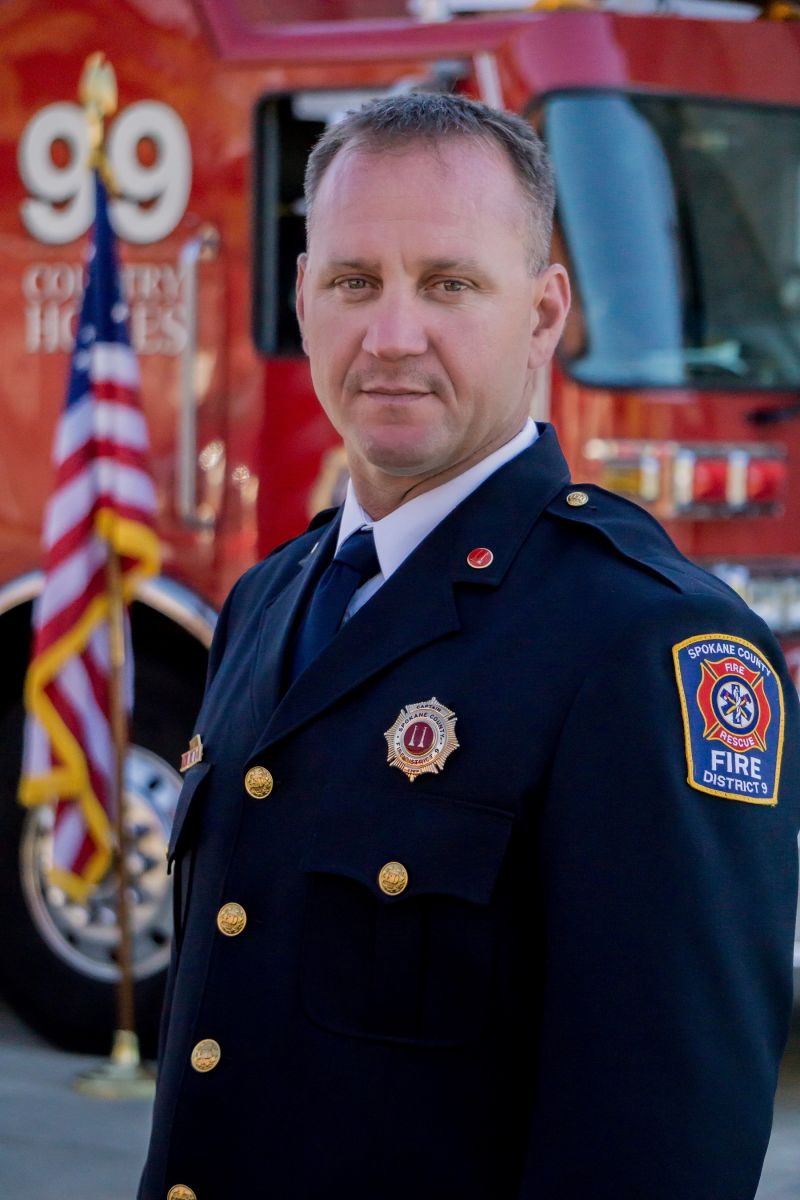 Dan Cecil, Division Chief-Emergency Medical Services